Flanked by an impressive array of robed clergy from near and far, on Sunday 10 December the Revd. Mark Barwick was formally licensed as Priest-in-Charge of St. Alban's Strasbourg by the Rt. Revd. Robert Innes, Bishop of Gibraltar in Europe, to give him his full title.  It was Bishop Robert's first visit to the Strasbourg church and the occasion could not have been more joyful.  After a long vacancy of 4 years St. Alban's at last has a new Priest-in-Charge.  The Revd. Mark Barwick, his wife Corinna and their two children Madeleine and Elias, moved to Strasbourg  from Brussels in September and have been warmly welcomed by the congregation.  With the official institution Mark is now officially "en poste" for at least the next three years.
As the Bishop pointed out, in many ways Mark's previous career has almost predestined him for the post of Priest in Strasbourg. He was ordained into the Episcopal Church and previously  was  assistant priest  in Waterloo, Belgium. He speaks French and German, has worked with political institutions in Brussels and for many years was involved  in conflict resolution with the Pax Christi organisation. During the instititution he was asked to affirm his loyalty to the Church of England and presented with a licence bearing an impressive red seal.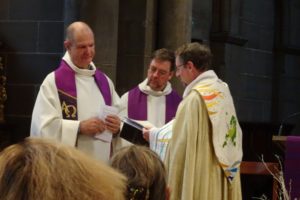 Bishop Robert, right, reading out the licence, to Mark Barwick, right, and Archdeacon Meurig Williams, centre.
Among the visiting clergy were Jean-Georges Boeglin, Ecumenical officer of the Diocese of Strasbourg , Frère Hervé, Prior of our hosts the Dominicans, Philippe Aviron-Violet, curé of St Maurice and St Bernard,  two representatives of the President and Vice-President of the Union des Eglises Protestantes d'Alsace et de Lorraine, Pastor Daniel Rivaud, representing the Entente Evangélique de Strasbourg and David Fieldsend, Reader from the Pro-Cathedral in Brussels. Mary Talbot from All Saints' Geneva represented our former Priest-in-Charge,  Alex  Gordon, and his wife Geraldine.  Their presence was an indication of the importance Mark  attaches to tending the ecumenical relations already established by previous priests at St. Alban's.  The congregation turned out in force;  the Malgache Chorale sang a Gloria, and the last hymn, "We are marching", was accompanied by an enthusiastic  group of  drummers and singers.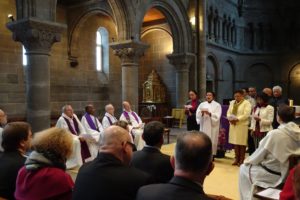 The Malgache Chorale, led by Worship Leader Voahangy Ramananjatovo
In true and traditional Strasbourg fashion the institution was followed by one of St. Alban's unforgettable feasts – conjured up by Victoria Jacobs, Anny Samuels and their helpers. It was a wonderful day with plenty of nourishment for mind, body and soul.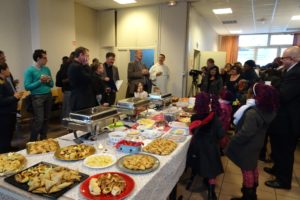 The Feast (or at least part of it!) Frère Hervé of the Dominicans on the right of Mark Barwick as he says grace.
The Bishop of Europe was as enthusiastic as the congregation was: here is what he wrote in his blog.