Maryline William-Smith writes:
Anny's wonderful talents have given us this year an excellent charity calendar and under her wise management, the bredele baking team has had its best production year so far.
With grateful thanks to all those lovely people who participated recently in the baking and/or packaging sessions, I'd like to confirm that our best crop of Bredele yet will be available for sale after Church on the Sundays in Advent while stocks last.
There have been some minor breakages and so today during the packaging session we tasted the quality of the varieties  (well somebody has to!!)  and we could confirm that the biscuits are absolutely delicious this year.
So do come with a generous heart and help ACAS, your church charity association,  with plentiful purchases.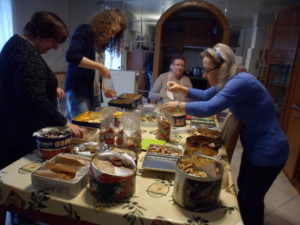 The baking team at work – and the result.     
PS: Bredele, for newcomers, are spicy tasty biscuits that are baked during Advent in Alsace and are an indispensible ingredient of an Alsatian Christmas.   Anny Samuels is an accomplished Bredele artist.