" Si ton frère devient pauvre, et que sa main fléchisse près de toi, tu le soutiendras." Levitique 25:35a
Madagascar est le premier pays au monde à connaître la faim à cause du réchauffement climatique. Plus d'un million des gens du Sud Ouest du pays ont faim dont la moitié sont des enfants qui souffrent de la malnutrition. A cause de la sécheresse, rien ne pousse, sauf les cactus qui leur servent d'aliments ou ils mangent de peau de zébus. Dans ces conditions, la mortalité infantile croît exponentiellement.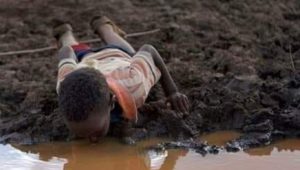 C'est une tragédie qui mobilise des organisations internationales, des différentes communautés religieuses et laïques, des personnes sensibles au devenir de cette population.
Nous aussi à St Alban's, très touchés de la situation, nous faisons appel à votre générosité en envoyant vos dons sur le compte bancaire de l' ACAS, ci dessous.
Association Caritative Anglicane de Strasbourg
IBAN: FR76 1027 8010 8800 0202 3490 172     BIC: CMCIFR2A
Ces dons sont gérés par la suite par une association de l'Anglican Church St Mark de Versailles en France, qui œuvrent dans la région du kéré, diocèse épiscopalien du Sud de Madagascar.
La population du sud vous remercie de tous vos dons. Que Dieu le Père tout puissant vous bénisse !
" Partage ton pain à celui qui a faim…" Esaie 58:7
https://mobile.francetvinfo.fr/monde/afrique/madagascar/secheresse-a-madagascar-les-terres-du-sud-ne-permettent-plus-de-nourrir-les-villages_4780041.html#xtref=android-app://com.google.android.googlequicksearchbox/
FAMINE IN MADAGASCAR
"If any of your kin fall into difficulty and become dependent on you, you shall support them."
Leviticus 25:35a
Madagascar is the first country in the world to suffer famine as a result of climate change. Over a million people in southwest Madagascar are suffering from hunger, half of them children who are severely malnourished. Several years' drought mean that nothing can grow except for cacti. These and the skin of zebu cattle are the only food available. Under these conditions, infant mortality is increasing exponentially.
This tragedy has mobilised international aid organisations, religious and lay communities and all those concerned about the future of this population. We too at St. Alban's, with our long-established personal links to the Malgache community in Strasbourg, are very much affected by the situation and appeal to your generosity in making donations to the Association Caritative Anglicane de Strasbourg:
IBAN: FR76 1027 8010 8800 0202 3490 172     BIC: CMCIFR2A
These donations will be managed by the charitable association of St. Mark's Anglican Church Versailles, which has links to the Episcopalian diocese of Southern Madagascar already working in the famine region.
The people of the South thank you for all your donations. May the all-powerful God bless you!
"Is it not to share your bread with the hungry … "  Isiaiah 58:7
https://mobile.francetvinfo.fr/monde/afrique/madagascar/secheresse-a-madagascar-les-terres-du-sud-ne-permettent-plus-de-nourrir-les-villages_4780041.html#xtref=android-app://com.google.android.googlequicksearchbox/