For over forty years every springtime, members of the Anglican chaplaincies in Heidelberg, Strasbourg and on occasions Stuttgart meet at the Protestant retreat centre  "Liebfrauenberg" in Alsace for a residential study weekend with a special topic and speaker. This is an opportunity in Lent for some serious study of aspects of our Christian faith, as well  a chance to meet old friends and make new ones, to worship, walk, talk, enjoy leisurely meals, relax and have a break. There is even a trip to a nearby village on Saturday evening for tarte flambée. Families are welcome. If there are at least four children there will be a  programme for them.
Our  Topic this year   –  Prayer
Our Speaker The Rev'd Paul Skirrow writes: "'The study content for this weekend will be in four parts:
Why do we pray?  How do we pray? (two sessions)  What do we pray?
Some find prayer difficult; a nightmare, a struggle, a chore … yet in working at it we can find it a wonderful, life-giving gift from God. Hard or easy prayer unites us with God, with each other and with God's world.    Prayer can happen in many forms, and we cannot claim that one is better than the other. Meditation; contemplation; spiritual exercises; formal prayer from prayer books; prayer using words; images and symbols; prayer which demands self-emptying of words and ideas – the possibilities are endless. Some of these options will be examined and tried during the weekend. We will gather for morning and evening prayers/compline each day and will celebrate the Eucharist on Saturday and Sunday."
For more information and booking form: Liebfrauenberg Weekend 2018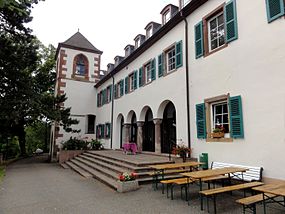 Protestant retreat centre Liebfrauenberg nr. Goersdorf in northern Alsace.  (Photo Wiki Commons Goersdorf)